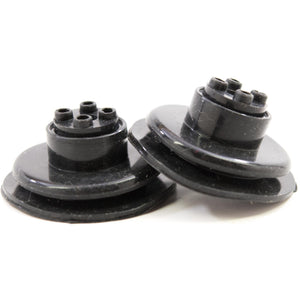 4 Position Wiring Seal (Wiring Pass Through)
GOT WIRES? Well you're going to need a way to pass them through the rear-end of your housing without letting moisture in. Here's your answer!
EASY: to use! Just bore out a 1-inch hole in the back or bottom of your headlight housing to seat the flanges of the seal into, then feed your wiring through the nipples on the seal.
SILICONE: Each seal is made of a pliable yet durable silicone rubber that wont crack or harden over time. Made to last the life of your headlights!
FOUR HOLES: Each seal has four holes in it, you can easily run four wires, or stretch to fit two through each hole.